Browned butter! It's slightly burnt butter with an amazing nutty flavor and caramel-y smell. It makes everything smell so delicious, I wonder if I can just burn it as a candle…
How to brown butter
The key to browning butter is patience. The difference between browned butter and burnt butter is just a few seconds. Add butter to a stainless steel or other light colored pot (will allow you to observe the browning process better than a dark pot) and melt over medium heat. Once fully melted, keep whisking or stirring it – the water will start to evaporate from the butter, and eventually the color will start to turn darker. Wait until brown bits start to form at the bottom – it will smell toasty and nutty. At this point, remove it from the heat and transfer to a different container. For this recipe, we want to re-solidify the butter before we use it for the cookies. If you add it to the dough as is, the dough will be too sticky to handle.
Wait, less sugar??
I love sweets, but often find the amount of sugar that goes into desserts to be well…MUCH. I decided to experiment with reducing the sugar and chocolate in this recipe by a third of what would be in a standard cookie recipe, and I can honestly say that it does not make a difference. I shared the finished cookies with friends and family, and no one noticed or mentioned that it was not sweet enough.
What kind of chocolate should I use?
Don't worry if you can't store bought chocolate chunks. I think this is impossible to find in Europe. Instead, just buy some dark chocolate bars and chop them up! You can get Lindt if you want to get fancy, but any brand will do. Each bar is usually 100g, so you will need two for this recipe.
Optional toppings
Extra chocolate chunks – Since we are being conservative with the chocolate, to prevent the cookies from looking empty on top, you can reserve some chocolate chunks and press them onto the tops of the cookies when they come out of the oven. This will make them look extra chocolatey while remaining totally guilt-free.
Sea salt – sprinkle some sea salt on top to add contract to the sweetness of the cookies. Another tip that enables us to add less sugar!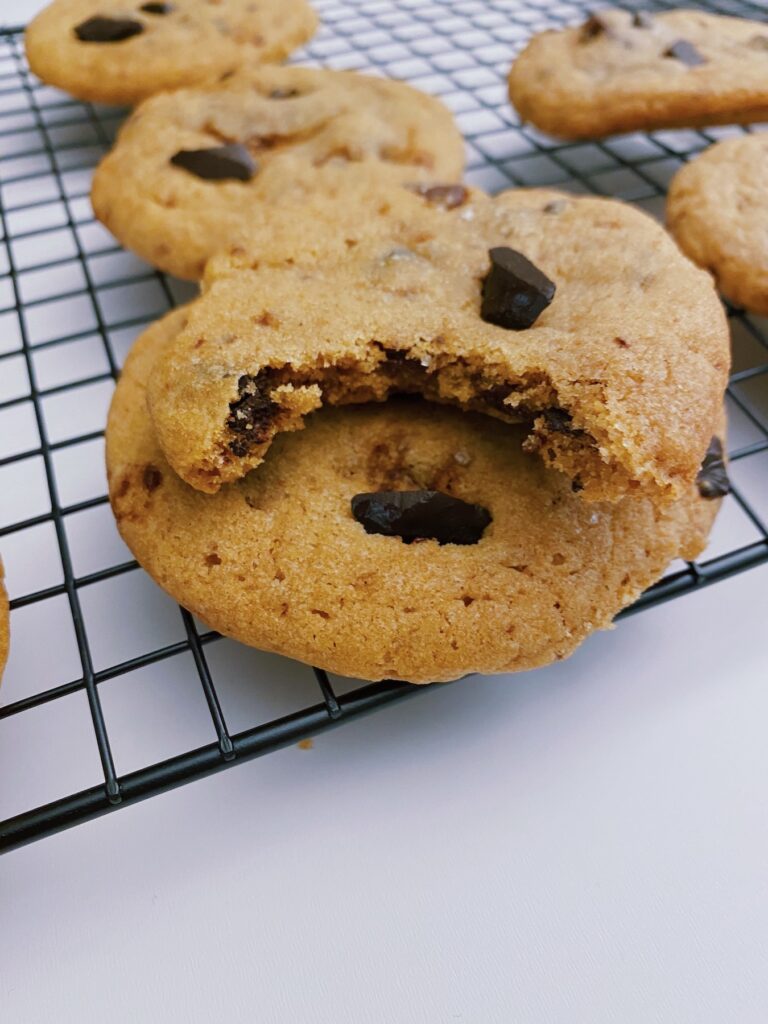 The Best Sea Salt Browned Butter Chocolate Chip Cookies (with less sugar!)
These are medium soft chocolate chip cookies made with decadent browned butter. They are 'healthier' in that they contain less sugar and chocolate than a typical cookie recipe, but they are just as delicious!
Ingredients
200

g

unsalted butter

,

browned and at room temperature (see post for more on this)

300

g

all-purpose flour

1

teaspoon

baking soda

1/2

teaspoon

kosher salt

180

g

dark brown sugar

,

packed

80

g

granulated sugar

1

tablespoon

vanilla extract

2

large eggs

,

at room temperature

200

g

semi-sweet or dark chocolate

,

chopped

Sea salt

,

optional, for sprinkling on top
Instructions
Preheat your oven to 375F/190C degrees

Melt butter over medium heat and whisk until brown bits form. Remove and chill until it is room temperature again. You can make this ahead and keep in the fridge for a few days until ready to use.

In a medium-sized bowl, combine the dry ingredients – flour, baking soda, salt

In a separate bowl, use a hand or stand mixer on medium-low speed to cream together the brown sugar, granulated sugar, vanilla, and browned butter until it's light and fluffy

Add eggs to the creamed sugar mixture, one at a time, beating just until it's mixed in, about 10-15 seconds.

Now mix in the dry ingredients. First, fold in the flour mixture with a spatula until the flour is combined. Next, fold in the chocolate chunks, reserving some if you want to top the cookies with them later. Careful not to over mix as we want to keep some air in the dough.

Once the dough is formed, scoop one table spoon sized balls and roll them between your palms until round. Place on baking sheet with foil or baking paper, with enough space between the cookies so they don't get stuck together when they spread during baking. Flatten the cookie balls a bit with your palm to help give it a nice look after baking.

Optional – Sprinkle sea salt on top of each cookie if you're using it.

Bake in pre-heated oven for 7 to 8 minutes, until it's brown at the edges. They will continue to cook a bit on the sheet after you take them out, so no need to wait for the entire cookie to brown.

Cool on the sheet for 5-10 minutes, then transfer to a rack to finish cooling. If you don't have a rack, just let it cook on the sheet.
Notes
Storage: make sure the cookies are completed cooled before storing, else they will turn soft.
Did you make this recipe?
Show me! Mention @maggieats on Instagram and tag it #maggieats