Asian bread is the best. Yes, I love croissant and baguettes, but there is nothing quite like the slightly sweet and suuuper soft cloud-like texture of Asian bread.
High Gluten Flour (Bread Flour)
I have tried baking bread with all purpose flour, but they usually turn our denser and more crumbly. Using high gluten flour for this recipe is important to get the soft, bouncy texture and the chewy bite.
How to make the softest milk bread
I like to pre-activate my yeast with milk to be on the safe side. If you're using instant yeast, you can skip this step.
Place all the dry and wet ingredients in a mixing bowl, and knead on low/medium speed for 10 minutes. Kneading the dough for a sufficient amount of time is important to get the final QQ (chewy/bouncy) texture.
This bread has three rises. Perfect for a rainy baking day at home. The first rise is with the entire dough until it has doubled in size. Then, press out the air and shape into smaller balls and let rise for 15-20 minutes. Finally, press out the air again and give it the final rise in the baking dish until it has doubled in size.
In colder weather, the rise will take longer – closer to 90 minutes instead of 60.
Bake them until they are golden on top. Check them at 12 minutes to avoid over-baking, and continue to 15 if they are not yet browned.
Dust with powdered sugar or flour?
I like my rolls a bit sweet, so I opted for the sugar on top. The rolls will get a bit sticky the next day, so flour would make them easier to store. I love the slightly sweet flavor combined with something salty – like butter, or ham and eggs!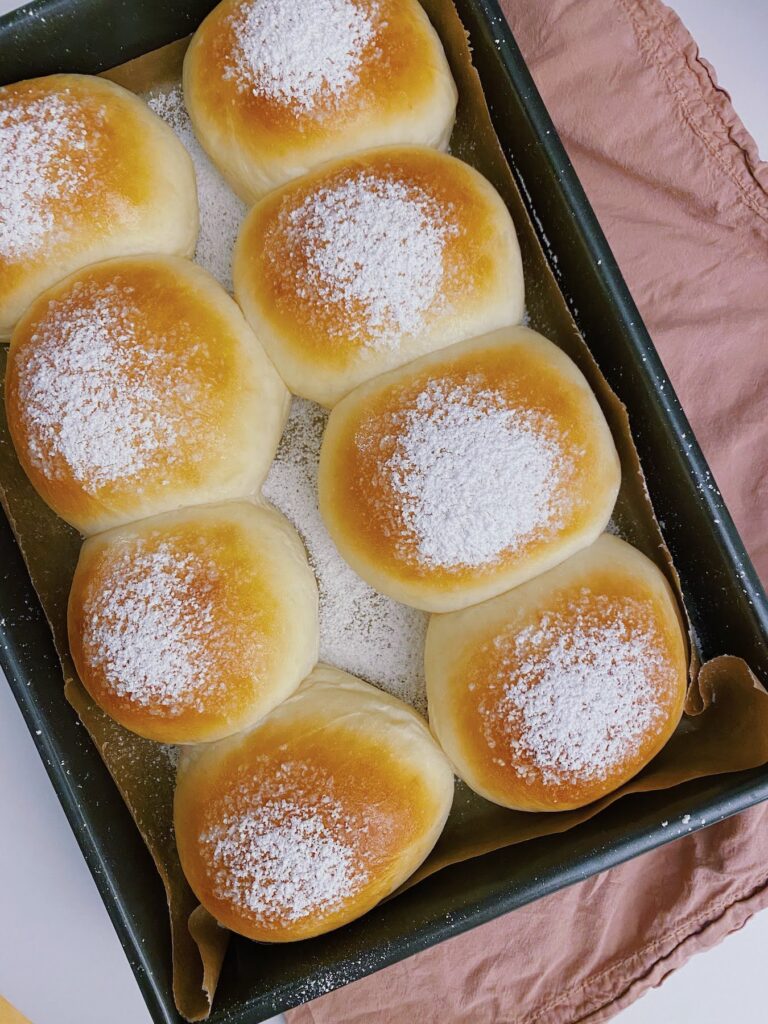 What to eat with fluffy milk bread
The possibilities and endless! They're delicious on their own, especially while warm, and they also go well with a variety of spreads:
cream cheese
butter
honey
nutella
peanut butter
They're also great when halved and used for sliders or burgers:
ham and egg breakfast sandwich
cheese burger with sriracha and mayo
mayo and rousong (肉鬆)
Do I really need cream cheese?
You don't taste the cream cheese at all in the end product, but the fat helps bring out the soft texture. I came across some recipes with butter as well, but decided to try mine without, because I want to indulgent but not that indulgent. I'm happy to report that no butter is needed to have absolutely divine angel cloud bread – but you do need some cream cheese.
For the milk, I normally bake with full fat milk, but only had 1.5% on hand and it worked just fine. Another place to save a few calories!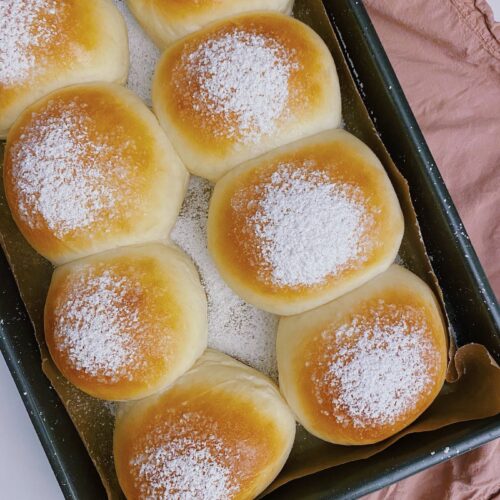 Best Soft and Fluffy Japanese Milk Bread
Super soft and fluffy bread rolls. Perfect on their own or with cream cheese and honey. They can also be used a slider or burger buns.
Ingredients
300

g

Bread flour

40

g

Sugar

3

g

Salt

5

g

Dry yeast

1

Egg

150

g

warm Milk

50

g

Cream cheese
Instructions
Combine warm milk and yeast in a bowl and let it sit to activate for 5 min. Make sure the milk is not so hot that it kills the yeast.

In a bowl, combine the bread flour, sugar, salt, egg, cream cheese and yeast/milk mixture. Avoid touching the yeast with the salt as that could slow the yeast growth

Using the dough hook attachment of a stand or hand mixer, knead for 10 minutes

Shape the dough into a round. Place dough in oiled bowl and cover with plastic wrap and a kitchen towel. Let it rise for 1 hour at room temperature in summer (around 26c) or 1.5 hour in winter (around 24c room)

Once the dough has doubled in size, divide it into 8 equal portions. Knead each to remove the air and shape into a ball.

Cover the dough with plastic and kitchen towel again and let rise for 15-20 minutes depending on your room temperature.

Knead each ball to remove the air and shape into a ball again. Line a baking dish with parchment paper and place dough balls in baking dish. Cover and  let rise for 60 – 90 minutes, until they have doubled in size

Using a fine sieve, dust the tops of the dough with powdered sugar (if you want it a bit sweet) or flour and bake at 180c/360f for 12-15 min (set timer for 12 min and check to see if it's browned on top. If not, bake for a few minutes longer)

Remove from oven, let it cool down, and enjoy!
Did you make this recipe?
Show me! Mention @maggieats on Instagram and tag it #maggieats