I'll admit, I'm not sure if the original You Fan is made with pork belly. But everything is better with pork belly, right?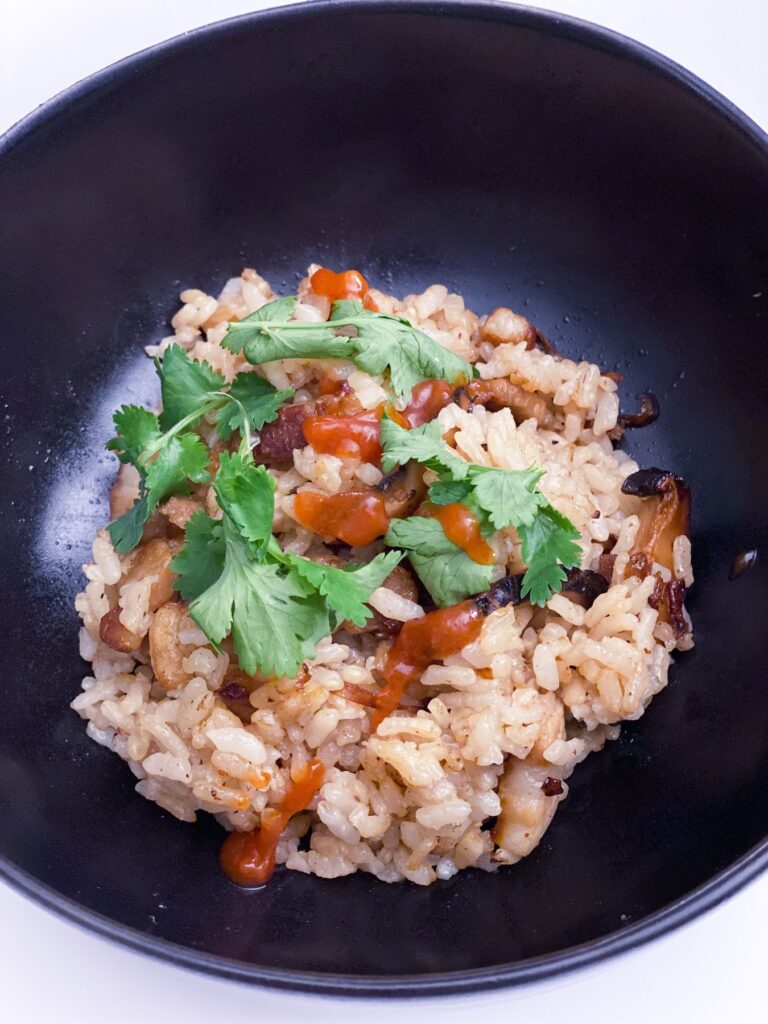 You Fan is a traditional Taiwanese dish that I grew up eating in morning markets. It is made with steamed sticky rice with a fragrant shiitake mushroom, dried shrimp, and pork topping mixed in.
It's a dish that's impossible to get in Europe, so I decided to make it myself.
Sticky Rice vs Risotto Rice
Some would argue that the whole point of you fan is the sticky rice, but I decided to try it with arborio risotto rice because it was what I had on hand (and wanted to use up). I'm very happy with the result – it's a super umami dish that's not as wet as a risotto but not as dry as fried rice. You can either type of rice for this recipe. If you use sticky rice, just remember to soak it for 30-60 minutes before cooking.
Rice to water ratio
With the risotto rice, I filled the rice to the "1" measurement in my rice cooker, washed and rinsed it, poured in the mushroom water, and poured in water until the "2" mark. You can follow the same instructions for sticky rice, just let it soak for 30-60 minutes before cooking. My rice cooker doesn't have any special modes, so I cooked it on the default 30 minute setting, and it turned out perfectly.
Taiwanese You Fan (油飯) / Pork Belly and Mushroom Rice
Simple you fan recipe made with either sticky rice (traditional) or risotto rice (modern take). You can substitute any meat, or remove it altogether for a vegetarian/vegan version
Ingredients
Rice
2

cups

arborio risotto rice or glutinous rice

,

250g

1

tbsp

oyster sauce

1

tbsp

soy sauce

1/2

tbsp

sesame oil

2.5

cups

water
Mix-Ins
2

shallots

,

thinly sliced

5-6

dried shiitake mushrooms

,

hydrated and sliced

200-400

g

of sliced pork belly

,

cut into strips

1

tbsp

dried shrimp

,

optional

1

tsp

white pepper

,

optional

2

tbsp

soy sauce
Instructions
Wash and drain the rice and place in rice cooker.  Add in oyster sauce, soy sauce, sesame oil, and water.  For extra umami flavor, you can substitute part of the water with the leftover liquid from rehydrating the shiitake mushrooms.

Mix thoroughly and turn on your rice cooker. The rice reached the 1 measuring line in my rice cooker, and I filled the water up to the 2 cup line. If you're using sticky rice, let the rice soak for 30 minutes to 1 hour before cooking.

While the rice is cooking, prepare the mix-ins. Fry the pork belly strips until slightly browned. Then add the sliced shallots and dried shrimps and cook until the shallots are softened.

Add mushrooms soy sauce and white pepper and stir fry for 5 minutes. Turn off the heat.

When the rice is done, add the rice to the pan with the mix-ins. Using a wooden spoon, fold the mix-ins into the rice until well combined.

Serve with hot sauce.
Notes
Traditional you fan is made with glutinous/sticky rice. In this recipe, I recreated the dish using risotto rice to avoid the soaking, and it was what I had on hand. 
Did you make this recipe?
Show me! Mention @maggieats on Instagram and tag it #maggieats