Standard Pizza in Mitte has been my go-to for Neapolitan style pizza place in Berlin since before I even moved here. Now, it has serious competition.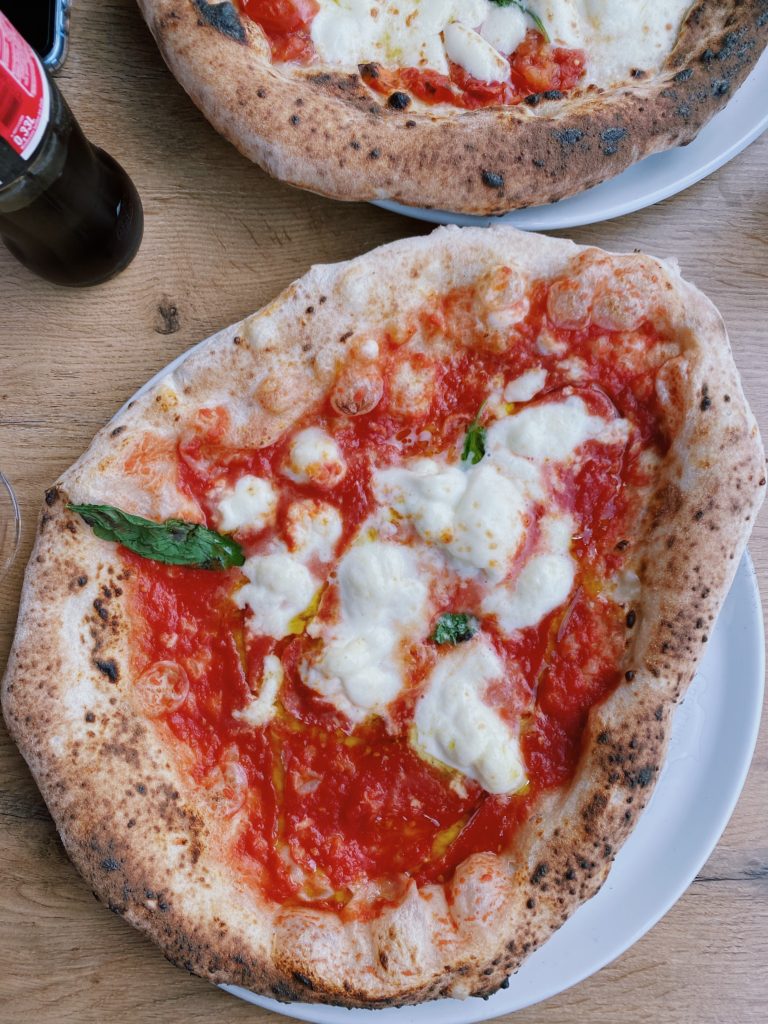 When I visited Naples last June, I finally got to try the much hyped, authentic, pizza as Italians (Southern Italians anyway) intended it to be. When I lived in LA, Pizzeria Mozza was my favorite. – Chewy outside crust that's paper thin on the bottom (knife & fork are a must), fresh crushed tomato, and just a handful of mozzarella topped with sprigs of basil.
Since I returned, I have been using this as my benchmark for evaluating pizzas. I know not all pizza meant to be that way, and not even all Italian pizzas are like that (looking at you Rome). But I do really like the thin pizza with big bubbly crust. What's more, I've come to the realization that Margherita pizzas are the best pizzas, and they are also the best benchmark for assessing the quality of any supposedly Italian pizza joint.
The original location is in Friedenau (no wonder I haven't been!) and they recently opened a second location in Prenzlauer Berg near U Eberswalder Straße. Malafemmena has a much larger menu than Standard (15 pizzas, between 8€ – 14€), and the fact that Margherita has its own whole section was promising in itself. My friend and I opted for the Verace Napoletana (The real Neapolitan, appropriately named) and the Piennolo Rosso, with fancy sounding Piennolo tomatoes from Mt. Vesuvius. Whereas the Verace Napoletana was a crushed tomato sauce base with a sprinkle of mozerella, the Piennolo Rosso was the opposite, a mozzarella base with sprinklings of cut tomatoes. This mozzarella heavy version reminded me a lot of the Margherita at Standard. There is no such thing as too much cheese, and I don't think I would have realized the difference if I didn't try these side by side. But quantity of cheese aside, both pies were delicious, delivered quickly (sometimes Standard takes forever…smaller oven?), and I would happily return.
P.S. They don't take reservations, and the majority of tables are two tops, so it's great for big parties, and if you come with more than two, expect to wait a bit.