Is it a Peruvian restaurant? They do serve a kick-butt ceviche with proper Leche de Tigre, and a Pisco sour with the right balance of booziness, tartness, and sweetness…so it's at least Peruvian influenced.
It's not Peruvian themed though. Lila is classily decorated with warm lighting and can easily be French or Italian. The dishes are artfully plated, and having sat at the kitchen bar, I had a lot of fun watching the chefs prepare the dishes.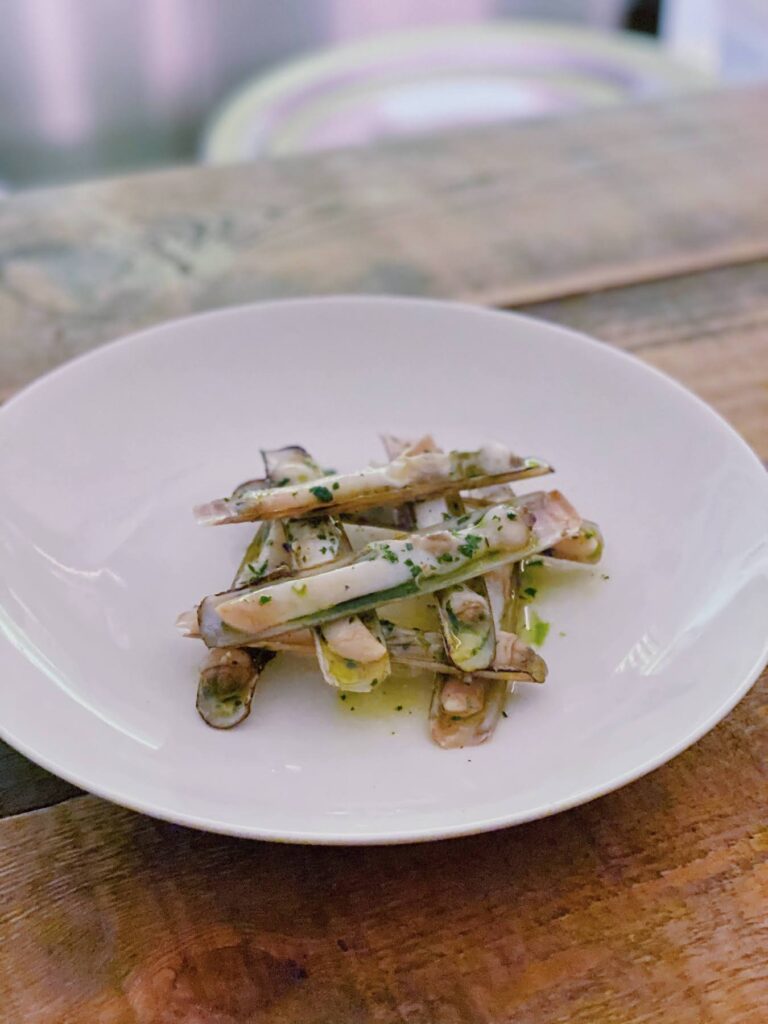 The Good
The food! – I looove seafood, and their menu did not disappoint. What's more, the quality of the ingredients are top notch. There are not many places serving razor clams in Berlin, and the only other one I know about has closed.
The cozy atmosphere – Dim lights, wood tables, the place is so casual trendy and reminds me of a restaurant in LA or New York. Definitely a place to impress a date, or just for a nice meal with a group of friends.
The Bad
Prices are around 20€ per small dish – Not cheap! Not Michelin star pricey either, but after spending 100€ between two people with one drink each, I still felt like I could eat more. I was super tempted to order the truffle butter pasta as dessert, ha.
The portions are small – Related to the previous point. The food is delicious, but you only get a small taste, especially if you're sharing amongst multiple people. One dish between two is okay, but if you're four, I would think about ordering doubles of dishes you want to try.
What to Order
Ceviche – Ceviche is raw seafood marinaded and "cooked" with acid, usually lemon juice. The version at Lila is tender and perfectly seasoned, served with whipped sweet potato and fried corn kernels.
Octopus – If you have been waiting to try octopus, this is the perfect place to start. Octopus can easily get too chewy or weirdly soft, but at Lila, they cook it to perfection.
Panna Cotta – I tried both desserts, and the panna cotta is definitely the clear winner. This is not your typical jello-y panna cotta. It is rich and luxurious – like a panna cotta whipped cream. What I love the most is the texture in the dish – crunch crumble and crispy maca chips. SO GOOD.
Pro Tips
Bring cash – They're cash only! I thought the server was joking when he answered "No" to my question of "Can I pay with card". Surprising for a mid/high price range restaurant, but not surprising because it's Germany.
Make a reservation two weeks in advance – if you really care about getting a prime dinner slot (7:30-8:30PM) on the weekend. If you reserve with short notice, the later times will be left. I tried my luck with walking in at 7PM on a Friday and was able to get a seat at the kitchen bar (best seat in the house!), but YMMV.
There are many other options on the street – So if your walk-in attempt doesn't work, don't fret, there are many other cozy looking restaurants right next door.
Did you try Lila Restaurant in Berlin?
Let me know what you think in the comments!